July 20, 2017

— ForgeableSum
Features
Added a "Remove all textures" button to the map editor.
Revamped the map selection screen to make it cleaner. You no longer need to scroll down after clicking a pagination link. Also added several filter options: official, community, game type, # of players and the abilitiy to search for a map by name.
Added author text to upper right of map thumb in map selection screen.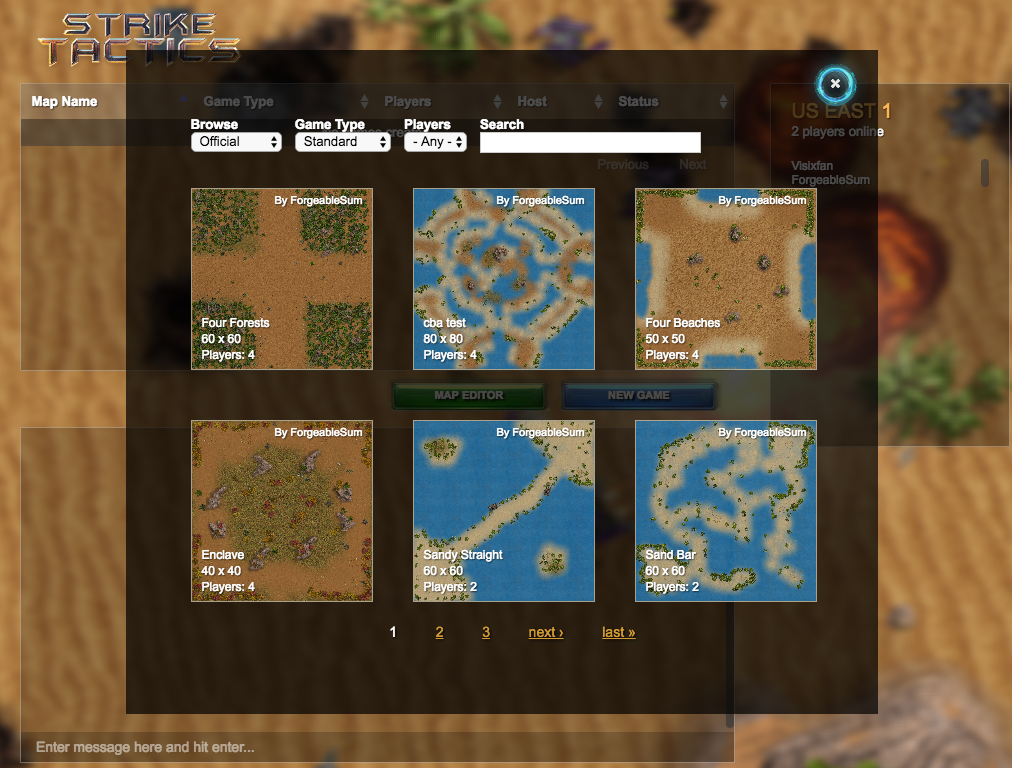 Fixes
Fixed a bug related to the workers laser which would cause the game to randomly crash.
Informational messages/prompts now showing in map editor.
When you save a map the file name will now be the same as the map name.
Changed text in unit range info from "m" to "pixels."
In the map editor, you are now limited to how close you can place ground textures for performance reasons.
Updated Javelin unit description to read that it does not do splash damage.
Fixed a server-side issue which may have caused crashes when a player leaves.
Players online list should no longer say "8 players online" when you first load the page.
Fixed the carbon mining tech tooltip text.
Gameplay
Overhauled Peregrine and gnat so that they fire less discriminantly. Gnat is no longer a suicidal unit but a cheap, ore-based light fighter (counterpart to the manta).
Increased Peregrine health from 690 to 1100.
Gnat cost set to 25 ore.